Tucky's Smoked Boneless Prime Rib Recipe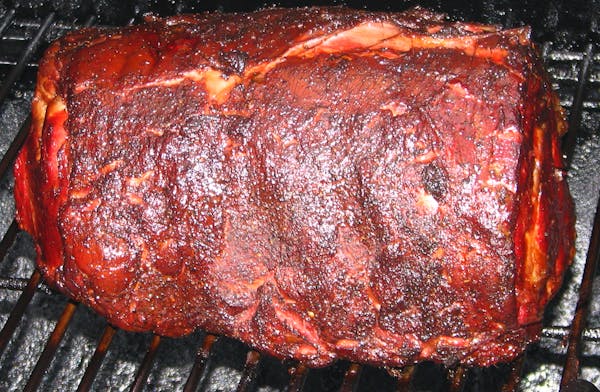 We love smoked prime rib anytime of the year, but it is so easy to do at home! The following method is for one 12-18 lb boneless prime rib of beef:
First, you'll need to determine how you want to season your prime rib. It can be smoked unseasoned, seasoned with kosher salt and freshly ground black pepper, or seasoned with your favorite rub. Here's a recipe for a simple rub that we like:
1/3 cup paprika (not smoked)
1/3 cup dark brown sugar, packed
3 tablespoons garlic powder
3 tablespoons onion powder
2 tablespoons oregano
2 tablespoons kosher salt
1 tablespoon coarse ground black pepper
Mix all rub ingredients together.You can store this in an airtight container for several months.
Clean and dry the prime rib. Let meat come closer to room temperature to ensure even cooking - about one hour should work. Trimming is not necessary, but we like to take ours down to about 1/4" of fat. We find the seasoning gets into the meat better and gives just enough fat to make the flavor incredible. Load your smoker with hickory wood (or pellets). Position rib in your smoker fat side up and smoke-cook the meat at 180 degrees for 12 minutes per pound. Insert a meat thermometer into thickest part of meat - meat is medium-rare at 130-135 degrees (we like 130 degrees personally). Meat will hold for about one hour at 150 degrees, before overcooking. remove from smoker and let rest at room temperature for at least 15 minutes. To serve, slice thin and bask in the compliments!